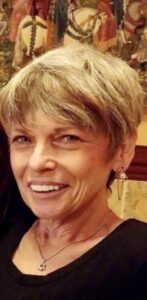 Sheila Fishman, Religious School Administrator.
We continue to provide a cutting-edge religious school curriculum which has been specifically developed for Congregation Beth Shalom. Religious School meets once a week on Sundays for grades 2 through 7, while Pre-K, Kindergarten and 1st grade students are scheduled to meet only once or twice weekly on Sunday mornings. Our school hours are from 9:30 a.m. until noon. Our day begins with our family friendly worship service from 9:30 to 10 a.m. The service is followed by a one-hour Hebrew class and then a one-hour Judaica class. Of course, our youngest student sessions are geared to meet their needs with story-telling, arts and crafts, ritual practices, music and learning their Alef-bet. As is our practice, a snack is offered during our sessions. The cost for religious school for $325.00 for Grades 2-7 and Pre-K through Grade 1 is $175.00.
Confirmation for grades 8 and above will be meeting with Reb Tuviah to discuss key Jewish issues in today's world, Jewish rituals, the State of Israel, ethics, and other similar topics. No specific dates have been announced.
Finally, in catering to the needs of our diverse community, we are offering a program we refer to as "L'Dor Vador" for students age 11 though 16 who have not been Bar or Bat Mitzvah. It is our goal to pass on our traditions from generation to generation. This will be a special two-year program culminating with the B'Nai Mitzvah. These students will be meeting during regular Religious School hours. With the final 9-months of the program, the students will also be attending private tutoring to specifically prepare for their B'Nai Mitzvah. Attendance in this program requires membership at Congregation Beth Shalom. The cost of this program is $325 annually. There will also be a B'Nai Mitzvah fee prior to beginning the 9-month tutoring program. We believe every child should be afforded the Jewish experience despite any circumstances. We look forward in working with the family to encourage this significant life goal.
Please do not hesitate to call Sheila if you have any questions, concerns or comments regarding our Religious School. You can reach her at 813-833-7843 or gold17@verizon.net.
Registration Form 2020-21 Letter to Religious School Parents To be eligible for Religious School registration, students must be part of member families of CBS.  For more info on becoming a member, go to our Membership page.