Please click HERE to purchase your ticket or you may call the Temple office at
813-681-6547 to pay over the phone.
Welcome Rabbi Bryan Mann
Rabbi Bryan is our Senior Rabbi at Congregation Beth Shalom. He received ordination from the Rabbinical School of Hebrew College in Newton Centre, MA in 2018. While in rabbinical school, he served as the sole clergy for Synagogue Adas Yoshuron in Rockland, ME and Congregation Betenu in Amherst, NH. There he led services, officiated at life cycle events, taught adult education as well as Hebrew School and provided pastoral care for the sick and bereaved. More recently, he served as the Social Justice Intern of Congregation Mishkan Tefila in Brookline, MA. Rabbi Bryan worked with congregants to build the social justice team, identify and prioritize social justice issues that congregants were passionate about and organized groups to make effective changes.
While in Boston, MA, Rabbi Bryan was an active member and ritual leader for the Moishe Kavod House in Jamaica Plain, MA, a Jewish 20s and 30s social justice community. He was also active in Keshet, an organization that works for full LGBTQ equality and inclusion in Jewish life. Rabbi Bryan has also developed deep friendships and connections with clergy from other faiths, at times taking part in their ordination ceremonies, guest teaching for their youth groups, and finding positive ways to partner with other faith communities.
Rabbi Bryan looks forward to getting to know each person who is or wants to be part of Congregation Beth Shalom's family. He can be reached atrabbibryanmann@gmail.com

           Mardi Gras Gala for a Cause Sponsors  
                Please support the professionals and retailers who support CBS
When it's time to pick a vendor or hire a professional for services, keep in mind these generous businesses that support CBS.  Thank you to the following businesses and friends for their participation in Mardi Gras Gala for a Cause.
Stephen & Anna Feldman
Christopher F. Waite, DMD (Brandon Dental Care)
Robert Clarke Industries, Inc. (Bob Clarke)
Reed & Reed Law PLLC (Ryan Reed)
Dolphin Title of Brandon Inc
Anonymous/Unknown
Species Pet Supply ( Diana Perez)
Gerald & Judith Pliner
Diane & Peter Jacobson, MD
Zomesa
Isabel & Jonathan Ellis
Gulfside Pool & Spa Inc
Meek Insurance Group
Colorado Health & Youth, LLC (Kathy Colorado)
Jan Pro
Alan Weiss & Toby Koch
 Dave & Carol Anne Friedman
Marvin & Julie Shienbaum
Brandon Plastic Surgery (Marvin Shienbaum, MD)
Hub International
Errol & Sheila Fishman
Randy & Dantia Freedman
Zweibach & Champion MD PPA ( Stephen Zweibach, MD)
G. Fried Flooring America (Keith Ogden)
Pathways Counseling Center (David & Rudina Richter)
AMVETS
Monarch Billing and Beyond, Inc. (Jennifer Allen)
NewSouth Window Solutions of Tampa
Century 21 (Sarah Meyers)
Kids R Kids (Keith Balot)
Hillsboro Memorial Gardens (Dignity Memorial)
Jill Oppolo
Dana & R.Van Johnson
Lawrence Greenfield
In-Kind Sponsors:
Doogie Entertainment (Seth & Paige Dugan)
Busy Bee Printing
Konica Minolta
Riverhills Country Club
Donors:
Ice Sports Forum, Bok Tower Gardens, The Dali Museum, Clearwater Marine Aquarium (Kelly Jordan), StarLite Cruises, StarShip Dining Cruises, The Palladium at St. Pete College ( Debbie Carson), Too Jays ( Lea Ackerman), Columbia Restaurant ( Richard Gonzmart), Canoe Escape (Mike Cole), Glazer Children's Museum, Walt Disney World Co., Mosi (Jeannette Ethier), Sleuth Mystery Dinner Shows (Paula Guido), Cutco Knives, Brahmin Designer Leather Bags, Accessories & Jewelry, McAuley Fine Jewelry, Straz Center For Performing Arts, Stonewood Grill & Tavern, Stephanie Ferry, VMP Photography ( Greg Hernandez ), Summerfield Crossings Golf Club (Jason Blanchard), Mitch & Suzie Baylis, Bulk Nation, Gold & Diamond Store, Brocats Catering, Tampa Bay Lighting, Tampa Bay Buccaneers, Sprouts, Jesse's Steak & Seafood Restraunt, Massage Envy, The Mill Restraunt, Advance Auto Parts ( Robert Repko), Costco ( Emily Jones Mendez), Eddie V's Restraunt, The Brass Tap, Timpano Restraunt, Bonefish Grill Restraunt, Mellow Mushroom, Next Step Shoes, Rolling Pin Kitchen Emporium, Supercuts, T-Marie's, Hamburger Mary's (Brandon Location), Walmart, Little Greek Restraunt, New Balance Store of Tampa, Tavistock Rest. Collection, Hungry Harry's, Republic National Distibuting Co., Improv Theater (Judy), The Great Escape Room, The Alley at Southshore, Ace Golf, Saddlebrook Resort, Rays Baseball Foundation, Total Wine, Sea World.
Thanks again to all our Sponsors, Donors and Volunteers for making this a successful event!
Special Thank you to Mitch & Suzie Baylis!
Shalom! Congregation Beth Shalom is a vibrant, warm, and growing Reform synagogue. As the only Reform synagogue in the Greater Brandon area, we provide a home for Jews and interfaith families of all ages and backgrounds. As a small congregation, we value the contribution and participation of each individual member.
Click the pictures below to learn more about us!
Welcome to Congregation Beth Shalom!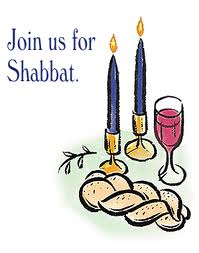 Shabbat Services
Shabbat is the highlight of the Jewish week, an opportunity to connect with family, friends and community. Tranquility and reflection are combined with learning, joy, spirited singing and prayer for a day that restores and renews.  Erev Shabbat services are every Friday night at 7:00 PM.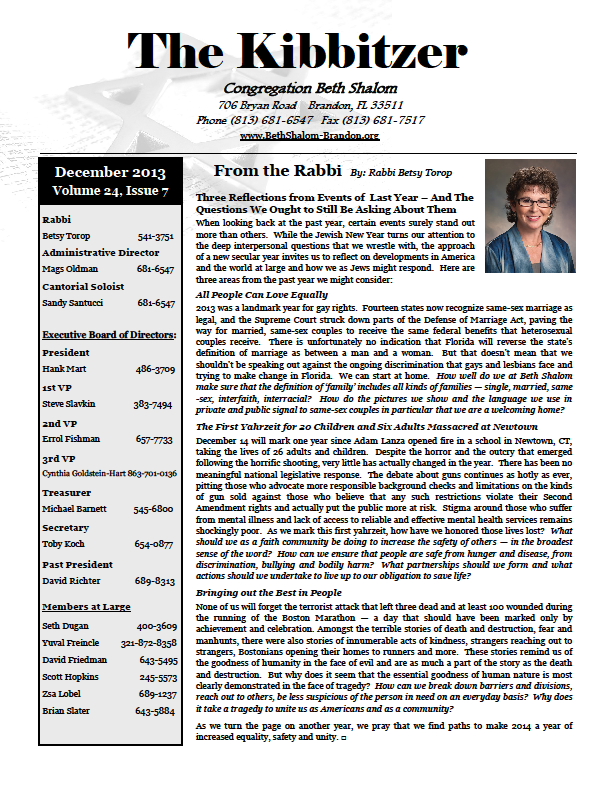 The Kibbitzer
The Kibbitzer is our monthly newsletter packed with information about Beth Shalom and all the activities we have for that particular month.
Congregation Beth Shalom holds Religious School on Sundays for students in Kindergarten through seventh grade, from 9:30am – 12:00pm; with the first 30 minutes dedicated to worship; parents are encouraged to attend as well.
At Beth Shalom we believe learning and participating in study are key to a full Jewish life.  We have a dynamic Life Long Learning Committee that organizes a variety of study and learning opportunities for all interests!