Welcome Rabbi Bryan Mann
Rabbi Bryan is our Senior Rabbi at Congregation Beth Shalom. He received ordination from the Rabbinical School of Hebrew College in Newton Centre, MA in 2018. While in rabbinical school, he served as the sole clergy for Synagogue Adas Yoshuron in Rockland, ME and Congregation Betenu in Amherst, NH. There he led services, officiated at life cycle events, taught adult education as well as Hebrew School and provided pastoral care for the sick and bereaved. More recently, he served as the Social Justice Intern of Congregation Mishkan Tefila in Brookline, MA. Rabbi Bryan worked with congregants to build the social justice team, identify and prioritize social justice issues that congregants were passionate about and organized groups to make effective changes.
While in Boston, MA, Rabbi Bryan was an active member and ritual leader for the Moishe Kavod House in Jamaica Plain, MA, a Jewish 20s and 30s social justice community. He was also active in Keshet, an organization that works for full LGBTQ equality and inclusion in Jewish life. Rabbi Bryan has also developed deep friendships and connections with clergy from other faiths, at times taking part in their ordination ceremonies, guest teaching for their youth groups, and finding positive ways to partner with other faith communities.
Rabbi Bryan looks forward to getting to know each person who is or wants to be part of Congregation Beth Shalom's family. He can be reached atrabbibryanmann@gmail.com
Welcome to Congregation Beth Shalom!
Shalom! Congregation Beth Shalom is a vibrant, warm, and growing Reform synagogue. As the only Reform synagogue in the Greater Brandon area, we provide a home for Jews and interfaith families of all ages and backgrounds. As a small congregation, we value the contribution and participation of each individual member.
Click the pictures below to learn more about us!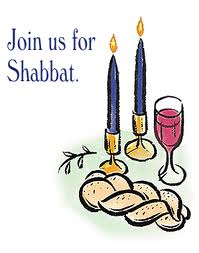 Shabbat Services
Shabbat is the highlight of the Jewish week, an opportunity to connect with family, friends and community. Tranquility and reflection are combined with learning, joy, spirited singing and prayer for a day that restores and renews.  Erev Shabbat services are every Friday night at 7:30 PM. Shabbat services are live streamed here:       https://www.facebook.com/BethShalomBrandon/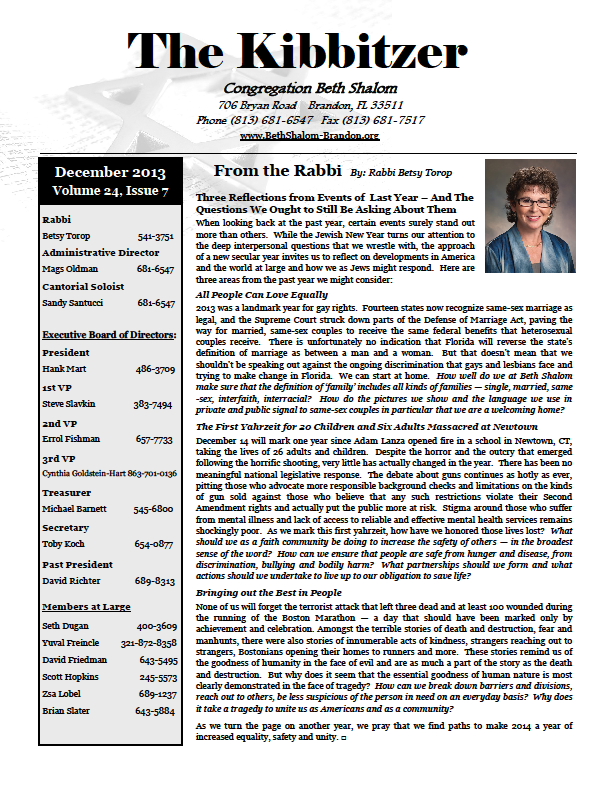 The Kibbitzer
The Kibbitzer is our monthly newsletter packed with information about Beth Shalom and all the activities we have for that particular month.
Religious School
Congregation Beth Shalom holds Religious School on Sundays for students in Kindergarten through seventh grade, from 9:30am – 12:00pm; with the first 30 minutes dedicated to worship; parents are encouraged to attend as well.
At Beth Shalom we believe learning and participating in study are key to a full Jewish life.  We have a dynamic Life Long Learning Committee that organizes a variety of study and learning opportunities for all interests!