CBS Retreat Reminder
Our Fifth Annual CBS Retreat is almost here!
Please join us Saturday, December 7, 2019 for our 5th Congregational retreat. The retreat is a way to deepen our knowledge of Judaism together and create community. This year's retreat will be held at Congregation Beth Shalom from 9 AM to 1:30 PM. This is a free event for everyone. (Donations of breakfast items and/or money to offset the cost of lunch are welcomed.) Families with children ages 4-12 must register at least two weeks in advance so appropriate youth programming can be provided. Young people ages thirteen (13) and older are encouraged to participate in the retreat. We will have breakfast together from 9-9:30 AM. From 9:30-12:30 we will learn about and create our own morning service then worship together. From 12:30 – 1:30 lunch will be offered at the synagogue. All are welcome to join this retreat at any time throughout the day. If you have food allergies, please feel free to bring your lunch and eat with us as a community.
We're looking forward to seeing our fellow members enjoying worshiping, bonding with friends and family, learning with the Rabbi, participating in fun activities and toasting & eating delectables!
See you for breakfast at 9am!
If you have any questions, please do not hesitate to email Christine Stockelman at chris.stockelman@gmail.com
Please click HERE if you would like to contribute a breakfast item
Welcome Rabbi Bryan Mann
Rabbi Bryan is our Senior Rabbi at Congregation Beth Shalom. He received ordination from the Rabbinical School of Hebrew College in Newton Centre, MA in 2018. While in rabbinical school, he served as the sole clergy for Synagogue Adas Yoshuron in Rockland, ME and Congregation Betenu in Amherst, NH. There he led services, officiated at life cycle events, taught adult education as well as Hebrew School and provided pastoral care for the sick and bereaved. More recently, he served as the Social Justice Intern of Congregation Mishkan Tefila in Brookline, MA. Rabbi Bryan worked with congregants to build the social justice team, identify and prioritize social justice issues that congregants were passionate about and organized groups to make effective changes.
While in Boston, MA, Rabbi Bryan was an active member and ritual leader for the Moishe Kavod House in Jamaica Plain, MA, a Jewish 20s and 30s social justice community. He was also active in Keshet, an organization that works for full LGBTQ equality and inclusion in Jewish life. Rabbi Bryan has also developed deep friendships and connections with clergy from other faiths, at times taking part in their ordination ceremonies, guest teaching for their youth groups, and finding positive ways to partner with other faith communities.
Rabbi Bryan looks forward to getting to know each person who is or wants to be part of Congregation Beth Shalom's family. He can be reached atrabbibryanmann@gmail.com
Welcome to Congregation Beth Shalom!
Shalom! Congregation Beth Shalom is a vibrant, warm, and growing Reform synagogue. As the only Reform synagogue in the Greater Brandon area, we provide a home for Jews and interfaith families of all ages and backgrounds. As a small congregation, we value the contribution and participation of each individual member.
Click the pictures below to learn more about us!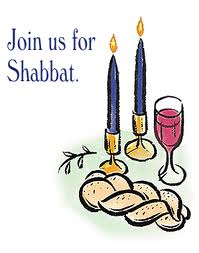 Shabbat Services
Shabbat is the highlight of the Jewish week, an opportunity to connect with family, friends and community. Tranquility and reflection are combined with learning, joy, spirited singing and prayer for a day that restores and renews.  Erev Shabbat services are every Friday night at 7:30 PM. Shabbat services are live streamed here:       https://www.facebook.com/BethShalomBrandon/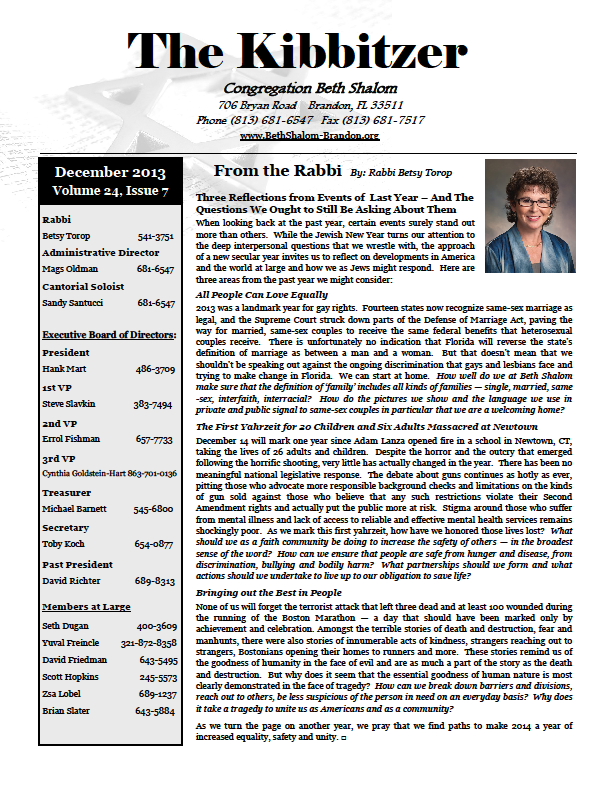 The Kibbitzer
The Kibbitzer is our monthly newsletter packed with information about Beth Shalom and all the activities we have for that particular month.
Religious School
Congregation Beth Shalom holds Religious School on Sundays for students in Kindergarten through seventh grade, from 9:30am – 12:00pm; with the first 30 minutes dedicated to worship; parents are encouraged to attend as well.
At Beth Shalom we believe learning and participating in study are key to a full Jewish life.  We have a dynamic Life Long Learning Committee that organizes a variety of study and learning opportunities for all interests!

          Hollywood Salute to our Heroes Annual Fundraiser
                Please support the professionals and retailers who support CBS. 
When it's time to pick a vendor or hire a professional for services, keep in mind these generous businesses that support CBS.  Thank you to the following businesses and friends for their participation in our Hollywood Salute to our Heroes Annual Fundraiser .
Allan & Denise Weber
Amvets Post 44 Corp
Anna & Steve Feldman
Anonymous
Bob Clarke Automotive
Brandon Hyundai
Brandon Complete Dental Care – Richard Assing DDS
Brandon Plastic Surgery – Dr. Marvin Shienbaum
CenterState Bank
Christopher Waite DMD
Cottonwood Equestrian – Jodi Olshina
David & Carol Anne Friedman
Diane & Dr. Peter Jacobson – GMS PCP Group Practice
Errol & Sheila Fishman
Gulfside Pool & Spa, Inc.
Hank & Donna Mart
Hillsboro Memorial Funeral Home
Home Express Realty – Ilene Schwartz
Jan Pro – Trace Thompson
Joe & Carole Plesur
Judith & Gerry Pliner
Kids R Kids – Keith Balot
Michael & Gail Verlin
Michael & Martie Spaier
Mitchell & Suzie Baylis
Pathways Counseling Center – Dr. David & Rudina Richter
RGB Realty Florida – Renate B. Greenfield
SLK Law Firm – Jonathan & Isabel Ellis
Segal Funeral Home
Sperry Law Firm – Bruce & Jan Sperry
Toby Koch & Alan Weiss
Zomesa
Zweibach & Champion MD's PA – Dr. Stephen Zweibach
In-Kind Sponsors
Brandon Elks Lodge
Doogie Entertainment
Regency Fine Art
Thank you to all our Donors for your support:
3 Daughters Brewing, Ace Golf, Bahama Breeze, Boca Brandon, Bok Tower Gardens, Bonefish Grill, Brandon Pizzeria, Brocato's, Bulk Nation USA, Cherry's Bar & Grill, Ciccio Cali Brandon, Clearwater Marine Aquarium, Cold Stone Creamery, Cooper's Hawk Winery & Restaurants, Culver's Restaurant, Cutco Knives, EATS! American Grill , Eddie V's Prime Seafood, Florida Holocaust Museum, Forever Florida Zip Lines & Adventures In The Wild, Glazer Children's Museum, Glory Days Grill, Goodrich Quality Theaters Inc, Gordon Food Service , Green Boutique, Grow Financial Federal Credit Union, Hamburger Mary's, Hooters Restaurant, Hungry Harry's, Improv Comedy Theater & Restaurant, Jasmine Thai, JCC Camp, Jesse's Restaurant, Little Greek Restaurant, Longhorn Steakhouse, Lowry Park Zoo, Massage Envy, Massimo's Pizza Subs and Salads, McAuley Fine Jewelry, Mellow Mushroom, Miller's Ale House, MISSION BBQ, Nail Spa, New Balance Tampa, Nothing Bundt Cakes, Outback Restaurant, Panera Bread, Portillo's, PRP Wine International, Publix, Rays Baseball Foundation, Rolling Pin Kitchen Emporium, Roy's Restaurant, Ruth Eckerd Hall, Saddlebrook Resort & Spa, Seasons 52, Shells of Brandon, Shrimp Boat Bar & Grill, Splash Car Wash, Sprouts, Square 1 Burgers , StarLight Cruises, Stephanie Ferry, Stonewood Grill & Tavern, Tampa Bay Buccaneers, Tampa Bay Lightning , T. Marie's Fashion, The Alley at Southshore, The Florida Holocaust Museum, The Florida Orchestra, The Great Escape Room, The John & Mable Ringling Museum, The Palladium Theater, The Ringling, The Stein & Vine, Tibby's New Orleans Kitchen Brandon, Tijuana Flats Bloomingdale, Timpano Tampa, TooJay's Deli, Total Wine & More, Trader Joe's, TreeUmph! Adventure Course, Village Inn, Walmart, WonderWorks Orlando, Wright's Gourmet Cafe, Yacht StarShip Cruise & Events